Description
Warranty Policy
Reviews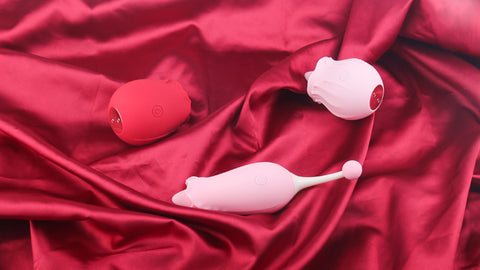 WHY CHOOSE THE ORGASM ANGEL ROSE VIBRATOR?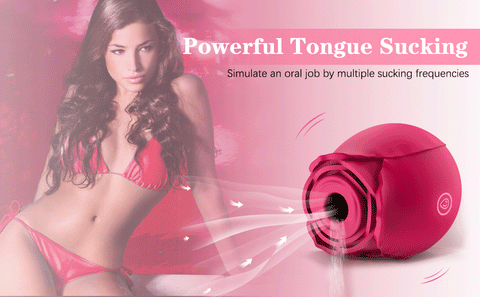 MORE THAN A SEX TOY

The shape of the Orgasm Angel rose vibrator is designed like a beautiful rose, which can be taken out anywhere or as a decorate set on your table, and no one will discover it is actually an adult sex toy!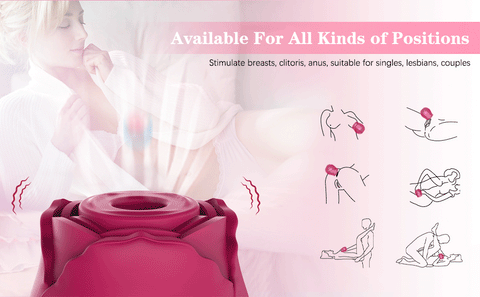 10 POWERFUL SUCKING MODES AND A QUIET MOTOR
The rotating airflow generated by the internal vibration sucks and teases the clitoris. It simulates perfect oral sex. With just one click, you can enjoy incredible sexual pleasure and step into the paradise of orgasm.
Orgasm Angel rose vibrator has equipped a quiet motor while still providing powerful suction, you can enjoy the clitoris stimulation alone without any concern when you close the door.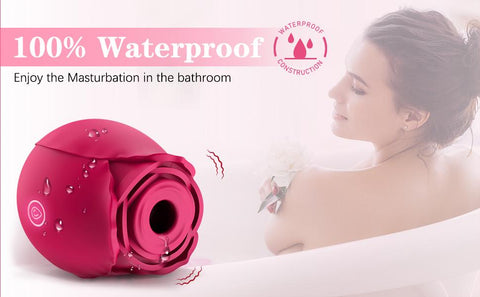 SAFE & WATERPROOF VIBRATOR
Orgasm Angel rose vibrator is made of medical-grade silicone, which hygienic and odorless. This silky-touch clit sucker would bring more comfort to your private parts. The vibrator is 100% waterproof. Take it to your bathtubs or showers. Use it anywhere, anytime.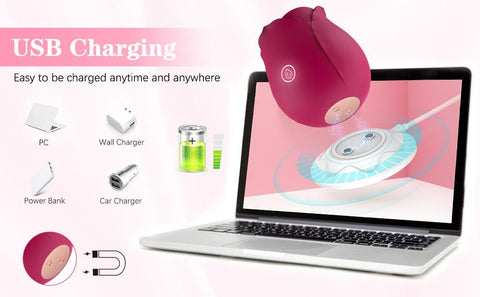 FAST MAGNETIC CHARGE

The clitoral stimulating vibrator can be magnetically charged through the attached USB charging cable, it can be quickly charged, the output frequency is stable, and the fully charged massager can be used for 2 hours.
HOW TO USE IT?
1.Long press power button 2 seconds to turn on the g spot vibrator.
2.Short press power button to change the licking vibration modes. Totally 10 different Modes of the clitoral vibrator.
3.Long press power button 2 seconds to turn off the sex vibrator.
SOMETHING IMPORTANT SECURITY WARNING AND USEFUL TIPS:
1. Before using this oral vibrator for the first time, please fully charge it.
2. Do not use it when charging the vibrator.
3. Let the sex toy vibrator dry and keep it in a secret place; keep it away from children.
4. It is best to use lubricant.


PACKAGE INCLUDING:
1 x Rose vibrator
1 x Manual
1 x Data cable
Here at Orgasm Angel, it is our mission to ensure you are happy with our site and your shopping experience. Here's how we make sure you are happy with our site:
30-Day Money Back Guarantee on All Purchases:
All our products come with a 30-Day Money Back Guarantee. If for any reason you are not satisfied with your results within 30 days of receiving your product, you can return your lights for a 100% refund of the price you paid less the original shipping cost.  All we require a brief explanation in writing for the reason you're not satisfied via email.  The refund will be processed via the same method used for payment within 48 hours of receiving the returned merchandise. Return merchandise must be in as-new condition, in the original packaging, with the appropriate silicone dildo, power cord and wired speed controller. Return shipping costs are the responsibility of the consumer.
1 Year Limited Warranty:
All of our Orgasm Angel products are under warranty against defects in materials and workmanship for a period of (1) years from the date of original purchase.  If damage has been caused by abnormal use, wrong input voltage or violently damage the machine and dildo, etc…, the warranty is void. We reserve the right to refuse warranty repair or replacement service to anyone.
Slide To The Bottom To View Comments
↓  ↓  ↓  ↓  ↓  ↓  ↓  ↓  ↓  ↓